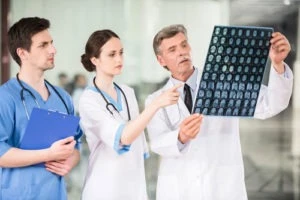 Doctors are trained to look for, diagnose, and treat a variety of conditions. But sometimes, a doctor may not accurately diagnose a condition, delaying life-saving treatment. Perhaps your or your loved one's pulmonary embolism or stroke was misdiagnosed, which delayed medical staff from catching the condition and effectively treating it. Not diagnosing and treating a pulmonary embolism or stroke in a timely manner can lead to severe, lifelong complications, including future embolisms, strokes, and disabilities.
If you believe a misdiagnosis prevented you or your family member from getting the treatment necessary to recover or survive a pulmonary embolism or stroke, contact a Columbus pulmonary embolism misdiagnosis lawyer's team today. The medical malpractice attorneys at The Fitch Law Firm LLC can look into your or your loved one's condition, determine if a medical professional is liable for the outcome, and help you recover compensation for your damages.
What Is a Pulmonary Embolism?
A pulmonary embolism (PE) almost always results from a blood clot that begins in the large veins of the leg and travels up into the lungs, partially or fully blocking an artery. Since a pulmonary embolism blocks major blood vessels, it can be life-threatening and cause irreversible damage if not caught in time. This dangerous medical condition may be treatable if the condition is diagnosed early on.
According to the American Lung Association, pulmonary embolism occurs in 1 person per 1,000 people every year. The Centers for Disease Control and Prevention (CDC) states that approximately one-third of people who develop a pulmonary embolism or deep vein thrombosis (the blood clotting condition that causes PE) suffer long-term complications. Between 10% to 30% of people die within one month of their PE diagnosis.
For a free legal consultation with a pulmonary embolism misdiagnosis lawyer serving Columbus, ca
Causes and Risk Factors of Pulmonary Embolism
As mentioned above, a pulmonary embolism occurs when the artery carrying blood to the lungs becomes blocked. More often than not, this blockage results from a blood clot. In rare cases, however, pulmonary embolism may also be caused by other substances, such as:
An air bubble or other substances that get into the blood from surgery, trauma, or medical procedures
A fat droplet, which may be released into the bloodstream after trauma, surgery, bone fractures, or severe burns
Tumors stemming from growing cancer cells
Factors that can greatly increase the chances of developing deep vein thrombosis (DVT) and pulmonary embolism are:
Obesity
Major surgery
Family history of embolisms
History of stroke or heart attack
Cancer
Fractures in the hip or leg
Genetic blood clotting disorders
Taking testosterone or estrogen
Being over 60 years of age
A sedentary lifestyle
Pulmonary Embolisms and Strokes Are Linked
A stroke transpires when the blood flow to a region of the brain is cut off, typically resulting in a clot. With the blood flow cut off, that particular area of the brain is deprived of oxygen and begins to die. According to the CDC, a stroke occurs every 40 seconds, and someone dies from a stroke every 3.5 minutes. Nearly 87% of all strokes are ischemic strokes, which occur because blood and oxygen are blocked from the brain, often by a blood clot.
Many studies, including this 2013 report in the Journal of the American Heart Association, link acute ischemic strokes (those that occur due to blood clots) with developing pulmonary embolisms.
Causes and Risk Factors of Stroke
Stroke is not only considered to be a leading cause of disability and death in adults but is also the fourth leading cause of death in the United States. Numerous things can cause a stroke to occur. These include:
Aneurysms
Deep vein thrombosis (DVT) and other blood clots
Irregular heart rhythms
Hypertension
Certain medications
Many factors can increase an individual's risk of suffering a stroke. These risk factors include:
Physical inactivity
Obesity
Binge or heavy drinking
Use of cocaine, methamphetamines, and other illicit drugs
High blood pressure
Diabetes
High cholesterol
Cigarette smoking or exposure to secondhand smoke
Obstructive sleep apnea
Heart defects, heart failure, heart infection, abnormal heart rhythm, and other cardiovascular diseases
Being over 55 years of age
Family or personal history of heart attack or stroke
Signs and Symptoms of a Pulmonary Embolism or Stroke
Symptoms of a stroke are:
Paralysis on one side of the body
Numbness or weakness of the arm or leg, especially on one side of the body
Facial drooping
Difficulty in speaking and understanding speech
Blurred or dimmed vision
Sudden severe headache with no known cause
Loss of coordination or balance
Loss of consciousness
Symptoms of a pulmonary embolism are:
Shortness of breath
Anxiety
Rapid pulse
Pain or swelling in one leg
Redness
Sharp chest pain
Back pain
Intense sweating
Coughing, sometimes with blood
Lightheadedness or losing consciousness
It is important to be aware of the signs and symptoms of a stroke and pulmonary embolism so you can get yourself or your loved one the medical attention they need right away.
How a Pulmonary Embolism Can Get Misdiagnosed
The NIH and other sources explain that a pulmonary embolism has a high misdiagnosis and delayed diagnosis rate. This is especially true when the patient suffering from PE does not suffer from many risk factors that make PE more likely.
Minor PE may not cause identifiable symptoms, so a doctor may not realize that a patient has this developing condition and cannot prescribe any treatments that prevent the minor PE from getting worse. A major PE, on the other hand, can block blood flow in the lungs, causing serious issues.
What's more, this condition presents symptoms—like rapid pulse, chest pain, and shortness of breath—that may resemble other conditions, like a heart attack or anxiety attack. Others have misdiagnosed PE as lung cancer or even pneumonia.
Determining Liability in a Pulmonary Embolism Misdiagnosis: Professional Standard of Care
The professional standard of care is an essential legal concept when it comes to medical malpractice claims. To be successful in your claim, you and your attorney must be able to establish that the medical professional involved breached the standard of care expected of them in treating a pulmonary embolism or stroke. This refers to the level of care, treatment, and skill that would be deemed appropriate by reasonably sensible healthcare professionals placed in similar situations.
Since a PE shares symptoms with other conditions, a physician should perform a differential diagnosis to cross-examine a wide variety of conditions that have these symptoms, test for all relevant conditions, and rule out conditions based on test results. Some tests that a doctor should run to verify whether a patient does or does not suffer from a PE include:
Computed tomographic angiography (CPTA), an X-ray that can analyze blood vessels where a PE would be located
D-Dimer blood test to check the amount of oxygen and CO2 in the blood
Chest X-ray of the heart and lungs, where a PE would be
Ultrasound of the legs to measure blood flow
CT scan to analyze the arteries, which may be affected by a PE
Pulmonary angiography to check for blood clots in the lungs
ECG to check on the heart
If your doctor or medical professional acted in a manner different from or below the standard of care that other medical professionals would have provided, such as by failing to run a test or failing to notice the signs of a stroke, then they may have possibly breached the standard of care.
Our Medical Malpractice Lawyers Will Help You Build Your Case at No Cost
When you work with the stroke misdiagnosis attorneys at the Fitch Law Firm LLC, you can alleviate the stress from your shoulders and let us handle your legal battle from start to finish. When our team represents you, we will do the following:
Investigate what happened
Identify the liable party or parties
Gather all evidence to support your case (e.g., medical records, eyewitness statements, photos, and video documenting what happened)
Handle all communications with the insurance company
Negotiate a settlement on your behalf
Take your case to court, if needed
Keep you updated on all developments in your case
Our medical malpractice attorney serving Columbus will do all of this and more without upfront fees or out-of-pocket costs. We only receive a payment if we obtain a settlement or court award on your behalf.
Compassionate Medical Malpractice Lawyer Ready to Help in Columbus
The failure to diagnose symptoms of a stroke or pulmonary embolism can make all the difference between a full recovery and either permanent disability or death. If you suffered injuries or lost a family member due to a stroke or pulmonary embolism misdiagnosis, The Fitch Law Firm LLC can help you file a medical malpractice lawsuit and seek compensation for the injuries you sustained.
We are here to fight for you and help you get the justice you deserve. Contact The Fitch Law Firm LLC or fill out our online consultation form to schedule a free consultation. One of our malpractice attorneys can get started on your case immediately.