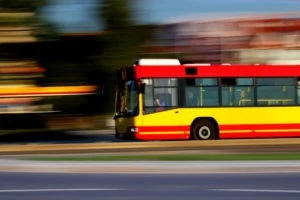 Passengers riding in a bus or other types of public transportation do so with the expectation they will be transported safely to their destination. Unfortunately, bus accident are all too common. Collisions involving public transit and buses often leads to more serious injuries due to the sheer size of theses vehicles.
Bus accident statistics from the Ohio Department of Public Safety show that in 2015 alone, a total of 3,593 buses and vans were involved in crashes in the state. Some 720 of these crashes resulted in injuries while 4 resulted in fatalities. School buses were directly involved in 1,275 of the crashes, resulting in 289 injuries.
If you or someone you love has been injured in a bus accident or other public transit accident, you will want to pinpoint the responsible party and fight for justice. a Columbus bus accident lawyer from The Fitch Law Firm can help represent you in a personal injury claim.
Causes of Bus Crashes in Columbus, OH
A bus accident can result from various factors, but a common theme in many bus accident cases is negligence. Some factors in bus crashes are:
Driver fatigue
Inexperienced or inadequately trained driver
Poor bus maintenance
Defective vehicle parts or equipment
Poor road maintenance
Overloading
Speeding
Distracted driving
Reckless driving behavior
Driving under the influence of alcohol or drugs
Note that while many of these factors may be the fault of the bus driver, some could be traced back to a different party such as the bus company or even a public agency. A Columbus personal injury lawyer who is skilled and knowledgable in Ohio traffic laws can assist victims in seeking compensation.
Bus Accident Injury Claims
When a bus accident is caused by someone's negligence, victims may be entitled to compensation. However, claiming compensation for bus accident injuries may be more complicated than typical accident cases. Unlike regular car crashes, bus accidents involve entities that control the bus, whether it's a private transport company or a governmental body.
In other words, bus accident victims may have to face not just the driver but the bus company and their insurance company as well. This presents a huge challenge for victims, and sadly, they end up settling for less than the compensation they deserve.
The best way for a bus crash victim to make a claim is to enlist a competent injury lawyer who stands up to large companies and is sincere in fighting for the injured.
The Last Thing You Should Worry About Is How You're Going To Pay For Your Medical Bills.
Talk To a Lawyer Now »
A Columbus Bus Accident Lawyer You Can Count On
If you need reliable legal help after obtaining injuries in a bus or any other kind of public transportation accident, the Fitch Law Firm is ready to fight with you. Over the last 30 years, numerous Ohioans have trusted us to handle their injury cases and we have helped them win even in the face of corporations.
Talk to the Fitch Law Firm today by calling (855) LAW-OHIO for a free initial consultation.
The Next Call You Make
After Calling 911
Should Be Us.
We Are Ready For Your Call
(614) 545-3930