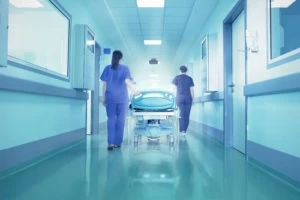 New research shows that medical errors are among the leading causes of death in the United States. According to The Journal of Patient Safety, between 210,000 and 440,000 patients die each year due to hospital errors that could have been prevented.
When people are hospitalized, they rely on medical professionals to do whatever they can to help them get better. They trust the hospital to treat them properly and that the staff will provide the patients with a certain level of care. When hospitals and their staff fail to meet a certain standard of care, however, then they may be held liable for any harm that results.
Hospital and nursing neglect claims typically fall under medical malpractice cases. Hospitals may be held responsible for medical malpractice or negligence when preventable errors occur in their facilities due to the careless action or inaction of their nurses and other employees. These include situations where a patient sustains injuries, falls ill, or is otherwise hurt or traumatized by negligence on the part of the hospital.
Hospital negligence
Hospital neglect or malpractice typically transpires in either of two ways: through corporate negligence by the hospital, or through negligence on the part of the hospital's employees. Doctors and surgeons are not the only medical professionals that bear the responsibility for the wellbeing and health of the patients in a hospital. Nurses, technicians, and other members of the hospital staff are among these employees, as well.
Like all medical professionals, hospitals are also bound by a standard of care in order to ensure utmost patient safety. All hospitals are both ethically and legally required to meet a professional standard of care for all their patients at all times. If hospitals fail to meet this obligation, whether by a willful or careless act, then they may potentially be charged with hospital negligence.
Nursing negligence
Nurses have an extensive amount of interactions and contact with their patients, and thus play a crucial role in their care and treatment. Among other things, their numerous responsibilities include:
Administering the proper medication at appropriate intervals and dosages
Monitoring a patient after surgery
Caring for surgical incisions and wounds as they heal
Coordinating with other members of the medical staff
Unfortunately, nurses can sometimes be understaffed and overburdened, leading to care and treatment that falls below the expected standard of care. Nursing neglect or malpractice occurs when a nurse fails to fulfill his or her duties in a way that a normally competent nurse would if placed in the same situation, and the nurse's negligence results in a patient's injuries.
The Last Thing You Should Worry About Is How You're Going To Pay For Your Medical Bills.
Talk To a Lawyer Now »
Hospital neglect examples
Although malpractice is typically assumed to be on the part of the doctor or some other medical professional, the hospital itself may also be held responsible for cases of medical malpractice of negligence committed by its employees.
Common examples hospital or nursing neglect include:
Failure to monitor a patient
Failure to stabilize a critical patient
Falls
Inadequate staff
Inexperienced staff
Improper staff training
Improper administration of medication
Nurse's failure to follow a doctor's instructions
Wrong site surgeries
Improper use of medical devices
Improper maintenance of medical equipment
Anesthesia errors
Medication errors
Surgical errors
Delayed treatment
Improper prevention or treatment of post-operative infections
Unnecessary procedures
Misdiagnosis
Retained surgical sponges
Failure to consult a specialist
Failure to order proper tests
Failure to check credentials
Inadequate or outdated policies
Hospital-born infections and improper sterilization
Compassionate nursing negligence lawyer ready to help
The results of hospital and nursing negligence can be dire, such as severe injuries, permanent disabilities, and even death. If you or a loved one suffered harm or injuries due to the negligence or inaction of the hospital or any of the hospital's employees, you may be entitled to file a hospital or nursing neglect claim. If you have lost a family member due to hospital negligence, you may also be eligible to file a wrongful death claim.
Hospital and nursing negligence cases can be complicated and costly. It would be to your advantage to have an experienced Ohio medical malpractice law firm on your side who can properly determine the party responsible for your injuries. The Fitch Law Firm can examine your case thoroughly and help you seek compensation for the injuries you have sustained. You may be eligible to collect a recovery for medical expenses, pain and suffering, lost wages, mental anguish, and other damages and losses. You may also be able to collect for your loss of future love, support and companionship.
We are here to fight for you and help you get the justice you deserve. Call The Fitch Law Firm at 855-LAW-OHIO or fill out our online consultation form to schedule a free consultation with an experienced medical malpractice attorney.
The Next Call You Make
After Calling 911
Should Be Us.
We Are Ready For Your Call
(614) 545-3930